Revisit the Most Memorable Motorcycle Clubs From Ride With Norman Reedus
In the latest episode of Ride With Norman Reedus, Norman reflects on his motorcycle adventures across the United States. During his cross-country trips, no matter the region, Norman has connected to the heart of motorcycle culture through its clubs—and these clubs are changing people's opinions on what kinds of folks ride motorbikes.
From the Atlantic to the Pacific and everywhere in between, motorcycle clubs are keeping people connected with each other and their communities through a shared love of riding. From the Caramel Curves, to the East Bay Dragons, to the Red Mountain Riders, here are a few of our favorite motorcycle crews we've seen on Ride With Norman Reedus:
"I actually have a lifelong ambition now to become a Caramel Curve," jokes executive producer and Ride showrunner Lizzie Ashe with amc.com. The Caramel Curves are a women-only motorcycle club, founded in New Orleans just before Hurricane Katrina struck the region. Norman and his co-rider Brent Hinds visited the Caramel Curves clubhouse in Season 1, Episode 5 during their trip through Louisiana.
Watch Norman Reedus Visit the Caramel Curves:
In the episode, Caramel Curve member Coco tells Norman: "I was riding with the guys all the time and I always thought it'd be so cool to pull out with a bunch of bad chicks on bikes with heels on, you know? And so before you know it, we went from eight to 27 deep now. We have Chicago, Baton Rouge, Memphis, Alabama."
Coco also burns a perfect circle into the street with her motorbike, colorful smoke spewing from her ride, another hallmark of the Caramel Curves. During their visit, Norman and Brent marvel at the absolute heft of the bikes the Caramel Curves ride. "This looks like the fastest bike I've seen in awhile," remarks Brent to Norman during their visit.
"Those ladies just kill it. They are heroes of motorcycle culture, and also they do really great work in their communities. They're really inspiring people, both in and out of the club," says Ashe.
"The Caramel Curves are breaking barriers in motorcycle culture, inspiring women to get on a bike and just be themselves," muses Norman after his visit in the series. Watch Norman and Brent Hinds's visit the Caramel Curves in Season 1, Episode 5 here.
"The East Bay Dragons have been riding strong in Oakland since 1959, making them the oldest all-Black club in America," says Norman in Season 3, Episode 2. Norman and former The Walking Dead cast mate and friend, Steven Yeun, visit the clubhouse of the East Bay Dragons during their ride through the California Bay Area. There, they meet a number of proud Dragons, and even the East Bay Dragons founder and president, Tobie Gene Levingston (who sadly passed away in July 2020).
See Norman Reedus and Steven Yeun Ride With the East Bay Dragons:
"The legend goes that Tobie Gene and Hell's Angels president Sonny Barger became tight back in the '50s even before hopping on bikes. Their friendship fostered a mutual respect between the Angels and the Dragons, and together they shared the Oakland streets as an unlikely band of brothers," explains Norman in the episode. "As a group, the Dragons broke all stereotypes, and today are an esteemed institution ingrained in the Oakland community."
"The way [Tobie] led this club got East Oakland, West Oakland, North Oakland, everybody under one umbrella, and nobody wasn't tripping about what neighborhood they were from," says one of the Dragons, K-Cloud, to Norman and Steven. "[Tobie] did not allow that. Once you put this patch on your back and you make that pledge to be an East Bay Dragon, that's it. It's not about what hood you from anymore. It's about togetherness."
Looking back on their ride with the East Bay Dragons, Ashe remembers it as a profound and important memory: "That was an amazing experience. They are definitely another favorite club, for sure. They are culturally and historically amazing. They're a force in their neighborhood and they've done an amazing amount of good work, and they have a really strong culture and tradition. It was really special to get to ride with them." Watch Norman Reedus and Steven Yeun meet and ride with the East Bay Dragons in Season 3, Episode 2 here.
During their adventure through the Bay Area, Norman and Steven Yeun meet another motorcycle group there, though this one has a very different vibe from the East Bay Dragons. The Slow Adults are a group of bikers who don't take themselves too seriously; after all, they exclusively ride on minibikes.
"There's no way to really be serious on these things," says Slow Adults member Mike Bouchard in this interview with amc.com. "You can't help but smile the whole time you're riding one, so how big of a badass are you going to be with a big goofy grin on your face?"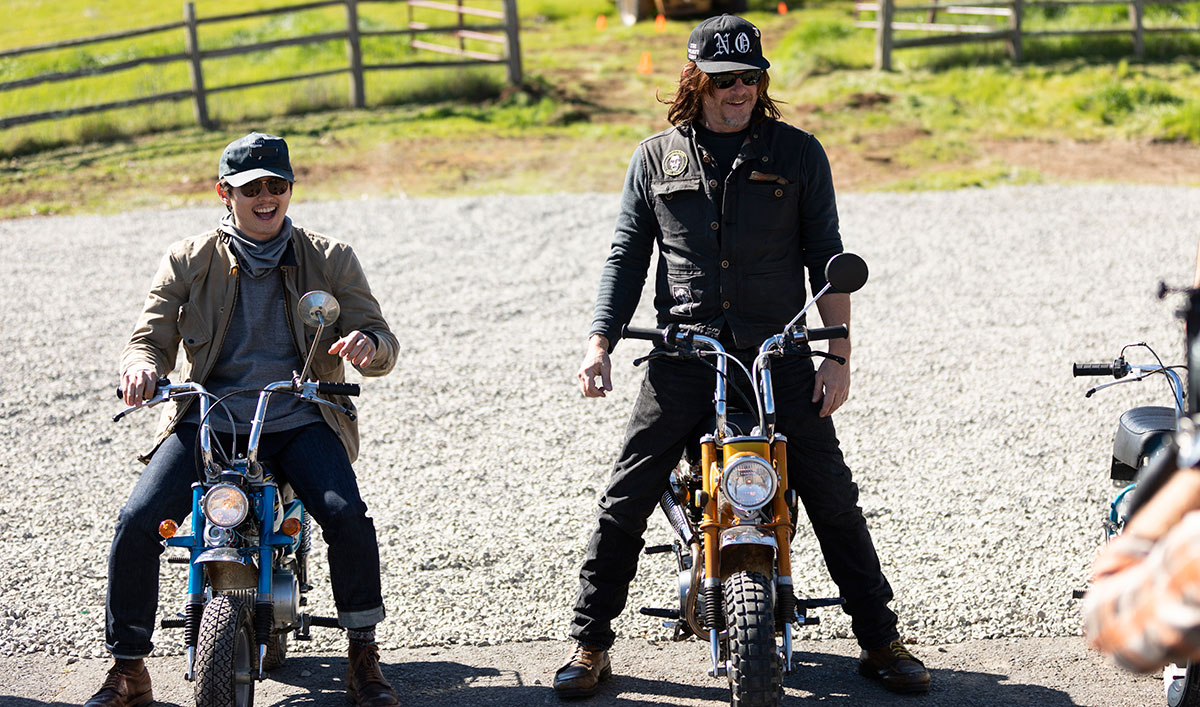 Ashe recalls riding with the Slow Adults: "The Slow Adults. [Laughs] They were super fun... It was funny because we were riding in beautiful wine country on these tiny bikes, it was kind of ridiculous. They were a super fun group, really irreverent. And to be in, not a formal setting, but wine country is a little fancy, and to rip around it on these little bikes definitely added some levity to the situation."
Bouchard says minibike groups like the Slow Adults are changing the way people feel about motorcycles: "Everyone in L.A. is stuck in traffic and pissed off, and they're so bitter at motorcycles for being able to split lanes, and they hate it," he says. "They try and block out bikes and then bikes get mad and break mirrors and fights break out. But when you come up splitting lanes on a mini, and the top of your head is at their shoulder height and you look in the window, it's almost like comic relief. We can't go anywhere with these things without people stopping and wanting to talk about it." Watch Norman Reedus and Steven Yeun have the time of their lives on minibikes with the Slow Adults in Season 3, Episode 2 here.
In Season 2, Norman visits old friends and makes new ones during his winding journey from Los Angeles to Joshua Tree. While he's in Southeast L.A., he meets up with the Cypress Hillbillies, and one of their famous members, Sen Dog. "Sen-Dog [is] the renowned member of the hip hop group, Cypress Hill. He's an avid biker and an affiliate of the exclusive motorcycle club, the Cypress Hillbillies," says Norman in the episode.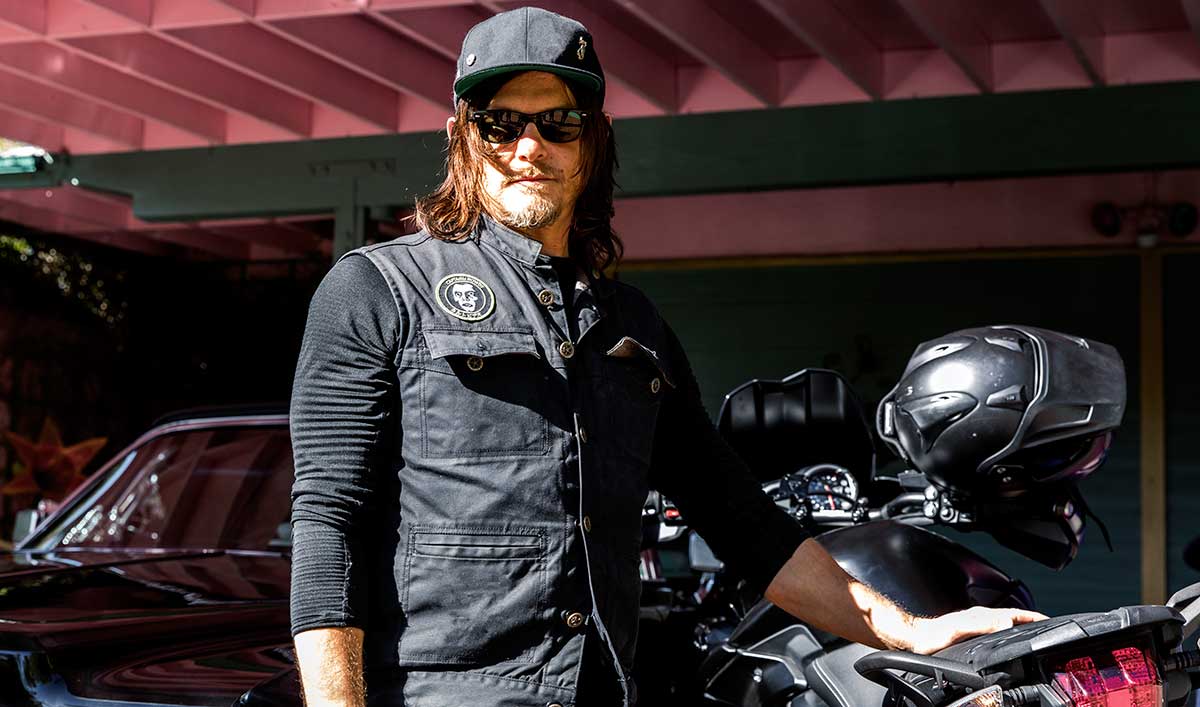 Sen Dog tells Norman the story of how he found his first bike (named Lucinda) and joined the Cypress Hillbillies. "I didn't really expect to, you know, to love it as much as I did," Sen Dog says in the episode. "Not just the bike, just the whole culture. Just the whole family of people, that we all love the same thing."
"If you look past the leather and the tough exterior, you're gonna see the Cypress Hillbillies believe in honor and tradition," explains Norman. "Group rides are a testament to their brotherhood, and riding alongside them is a sacred privilege I'm never gonna take for granted." Watch Norman join the Cypress Hillbillies for a ride in Season 2, Episode 3 here.
In Season 3, Episode 4, Norman Reedus joins his The Walking Dead onscreen nemesis and real-life friend, Austin Amelio, for a journey through Arizona. At the start of their adventure, they meet up with the Red Mountain Riders, a Sovereign Nation motorcycle club dedicated to their community. "It was kinda tough to get in with the Indian community government, because we look, just, rough," laughs Red Mountain Riders member Leonard during Norman's visit. "So we gave back to the community."
"We usually help out at a lot of community events, volunteer work," adds another member, James. The Red Mountain Riders give Norman and Austin a tour of the base of the Red Mountain, normally off-limits to outsiders.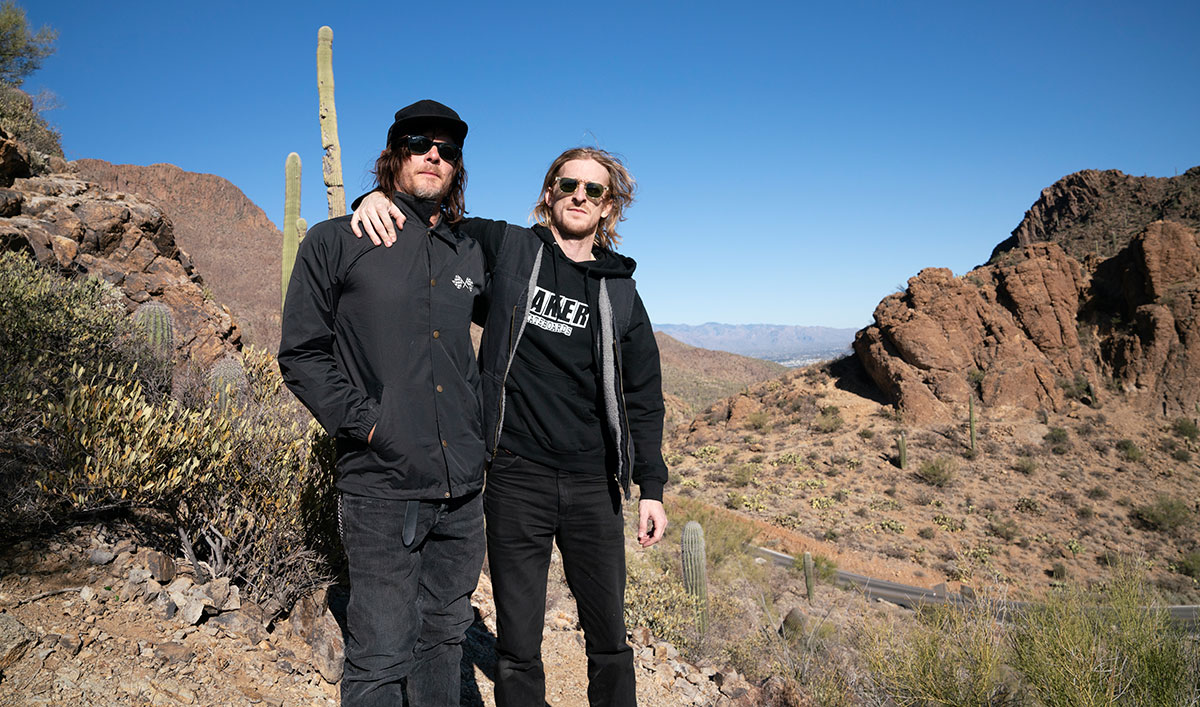 Later, Norman, Austin, and members of the Red Mountain Riders grab a bite to eat, talk, and laugh around a large table. "People have some sort of stigma attached to dudes who ride motorcycles, or have leather vests on and tattoos and the whole deal," says Austin. "And normally, they're the nicest people — way nicer than people that don't." Watch Norman Reedus and Austin Amelio ride with the Red Mountain Riders in Season 4, Episode 4 here.
Watch the latest episodes of Ride With Norman Reedus on amc.com, the AMC apps and AMC+.
Read a Q&A with Norman Reedus here, in which he chats with amc.com about his New Zealand motorcycle trip, his new friendship with Josh Brolin, and how the pandemic made this season "unique" and unexpected.
Read a Q&A With Executive Producer Anneka Jones here, in which she describes how Ride dealt with global quarantine, her favorite memories from the show, and more.
Ride With Norman Reedus will return with new episodes on Sunday, April 18 at 11:30/10:30c.
For more of the latest episodes, travelogues, ride diaries, interviews, and more, sign up for the AMC Insiders' Club.