AMC Networks Announces Fall Premiere Dates for New and Returning Original Series and Specials
This fall, AMC Networks unveils a robust slate of compelling dramas, fan-favorite franchises, and highly-anticipated films across its channels and targeted streaming services including AMC, AMC+, Acorn TV, ALLBLK, BBC AMERICA, Shudder, Sundance Now, SundanceTV and WE TV.
Below are the highlights for AMC and AMC+:
Kin (AMC+, pictured above)
Season 1 Premieres Thursday, September 9
New AMC+ Original series starring Charlie Cox (Daredevil), Aidan Gillen (Game of Thrones), Ciarán Hinds (Game of Thrones) and breakthrough Irish actress Clare Dunne (Herself), Kin charts the lives of a small, but tight-knit fictional Dublin crime family, The Kinsellas, who are embroiled in a war against a powerful drug kingpin, Eamon Cunningham (Hinds). A boy is killed and his family embark on a gangland war with an international cartel – a war that is impossible to win. It's David and Goliath. Out-numbered, out-financed and out-gunned, the Kinsellas find themselves holed up in their Dublin stronghold while their businesses fail, and family members and associates are picked off. But they have something the cartel does not: the unbreakable bonds of blood and family.
Ragdoll (AMC+)
Season 1 Premieres Thursday, November 11
From the award-winning producers of Killing Eve comes a new AMC+ Original series. Six people have been murdered, dismembered and sewn into the shape of one grotesque body — nicknamed the 'Ragdoll.' Assigned to this shocking case are newly-reinstated DS Nathan Rose (Henry Lloyd-Hughes); his best friend and boss, DI Emily Baxter (Thalissa Teixeira); and the unit's new recruit, DC Lake Edmunds (Lucy Hale). The 'Ragdoll Killer' taunts the police by sending them a list of his next victims, with Rose's name at the very end. And with those victims to protect, our heroes soon come under intense public scrutiny. A gruesomely imaginative serial killer thriller, Ragdoll captures the fascinating but flawed friends struggling with the consequences of institutionalization and trauma. Executive produced and commissioned by AMC and UKTV's Alibi, and executive produced by Sid Gentle Films Ltd. (Killing Eve), with Freddy Syborn (Ms. Marvel, Bad Education) as lead writer and executive producer.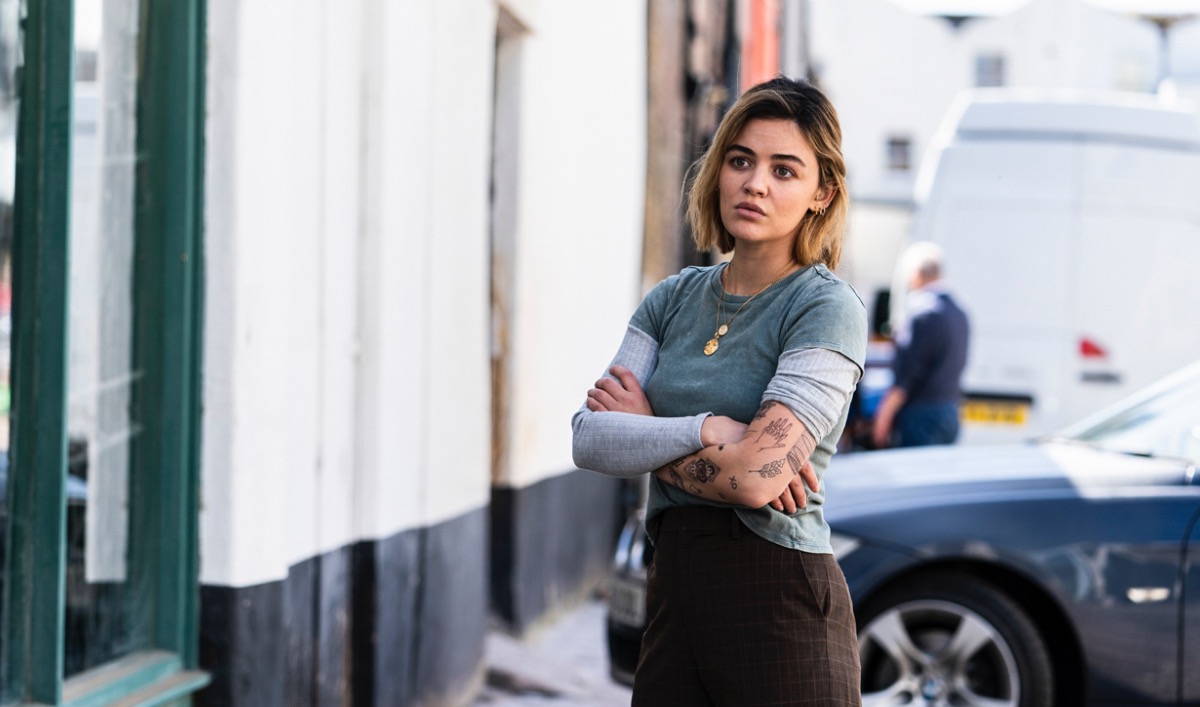 Anna (AMC+)
Premieres Thursday, November 18
Anna is a dystopian story of a ravaged world destroyed by a virus which kills adults but spares children. Set amongst parched fields and mysterious forests, the crumbling hulks of shopping malls and abandoned cities pierce deserted wide-open spaces on an island reclaimed by nature and run by savage communities of survivors, most of whom are children. Anna only has one guide: a book left by her mother with instructions on how to survive. But, with each passing day she discovers that the old rules no longer apply, and instead has to make up new ones as she goes along.
Ultra City Smiths (AMC / AMC+)
Premieres Monday, September 13 at 11/10c; Available Early on AMC+
Ultra City Smiths unfolds via stop-motion animated baby dolls repurposed as a grown-up cast of characters. From AMC Studios and created by Steve Conrad (Patriot, Perpetual Grace) and Stoopid Buddy Stoodios (Robot Chicken), the series hinges on an investigation into the mysterious disappearance of fictional metropolis Ultra City's most famous magnate, Carpenter K. Smith (Kurtwood Smith, That 70's Show). Two intrepid detectives, David Mills (Jimmi Simpson, Westworld), and Gail Johnson (Da'Vine Joy Randolph, Dolemite Is My Name), follow the case, rallying to fight against their city's dangerous corruption, at a high cost to themselves and their families, all in pursuit of a gentler place to call home. The series stars Kristen Bell (The Good Place), Dax Shepard (Parenthood), John C. Reilly (Moonbase 8), Alia Shawkat (Search Party), Tim Meadows (Schooled), Luis Guzmán (Shameless), Melissa Villaseñor (Saturday Night Live), Terry O'Quinn (Lost), Debra Winger (Terms of Endearment), Bebe Neuwirth (Chicago), and Jason Mantzoukas (Big Mouth). Ultra City Smiths
The Walking Dead: World Beyond (AMC / AMC+)
Season 2 Premieres Sunday, October 3 at 10/9c; Available One Week Early on AMC+
Season Two of The Walking Dead: World Beyond concludes the epic story of Iris (Aliyah Royale) , Hope (Alexa Mansour), Elton (Nicolas Cantu), and Silas (Hal Cumpston) -- four friends who journeyed across the country on a mission that transformed everything they knew about themselves and the world.  As they face off against the mysterious Civic Republic Military and fight for control of their own destiny, goals will shift, bonds will form and crumble, and innocence will be both lost and found.
Fear the Walking Dead (AMC / AMC+)
Season 7 Premieres Sunday, October 17 at 9/8c; Available One Week Early on AMC+
Teddy (John Glover) brought about his vision of "The End" when he detonated nuclear warheads across the Texas landscape, but it will be up to those who survived to decide what "The Beginning" will look like.  And they'll have to do it in a world devoid of light and hope, where the outside air is just as deadly as the walkers they face. The survivors will find out who they really are and what they're really made of. Some will rise to the occasion, some will find new purpose, and some will redefine themselves -- even if it comes at a terrible cost to those they once considered family.
Meerkat Manor: Rise of the Dynasty (BBC AMERICA / AMC+)
Season 1B Premieres Saturday, September 4 at 9/8c
Meerkat Manor: Rise of the Dynasty follows the compelling, heart-string tugging saga of three matriarchs, all of whom are descendants of the legendary meerkat Flower.  Neighbors and rivals, they are forced to compete in order to ensure the survival of their families in an environment that is undergoing a great deal of change: the Kalahari Desert in South Africa.
Doctor Who (BBC AMERICA / AMC+)
Season 13 Premieres Fall 2021
She's back. The Thirteenth Doctor is returning for the thirteenth series in what is set to be a six-part Event Serial. Since their last epic battle in Revolution of the Daleks, the Doctor (Jodie Whittaker) and Yaz (Mandip Gill) have been exploring the universe together but with the Doctor now questioning everything about her past there she will undoubtedly be searching for answers. This adrenalin fueled; universe-spanning series will also see an addition to the TARDIS with actor and comedian John Bishop joining the cast as Dan Lewis who will quickly learn there's more to the Universe than he could ever believe. Jacob Anderson (Game of Thrones, Broadchurch) is also set to make his debut on Doctor Who as reoccurring character, Vinder. Jacob's new role will see him join forces with the Doctor, Yaz and Dan as the Doctor faces her biggest ever adventure. Series 13 is set to introduce some terrifying new adversaries and the return of truly iconic old enemies. Expect action, fun, scares, extraordinary new worlds as the Doctor and her friends confront a deadly evil…
Creepshow (SHUDDER / AMC+)
Season 3 Premieres Thursday, September 23
Based on the 1982 horror comedy classic, the anthology Creepshow returns for a third season and is still the most fun you'll ever have being scared! From showrunner Greg Nicotero (The Walking Dead), a comic book comes to life in a series of vignettes, exploring terrors ranging from murder, creatures, monsters, and delusions to the supernatural and unexplainable.  You never know what will be on the next page.
V/H/S/94 (SHUDDER / AMC+)
Premieres Wednesday, October 6
A Shudder Original Film, V/H/S/94 is the fourth installment in the hit horror anthology franchise and marks the return of the infamous found footage anthology with segments from franchise alumni Simon Barrett (Séance) and Timo Tjahjanto (May the Devil Take You Too) in addition to acclaimed directors Jennifer Reeder (Knives & Skin), Ryan Prows (Lowlife) and Chloe Okuno (Slut). In V/H/S/94, after the discovery of a mysterious VHS tape, a brutish police swat team launch a high intensity raid on a remote warehouse, only to discover a sinister cult compound whose collection of pre-recorded material uncovers a nightmarish conspiracy.
Horror Noire (SHUDDER / AMC+)
Premieres Thursday, October 28
A new Shudder Original anthology film, Horror Noire is a follow-up to the critically acclaimed 2019 documentary Horror Noire: A History of Black Horror and features new work from both established and emerging talents, showcasing stories of Black horror from Black directors and screenwriters. Anthology writers featured include Tananarive Due, Steven Barnes, Victor LaValle, Shernold Edwards, Al Letson and Ezra C. Daniels.
Trial in the Outback (SUNDANCE NOW / AMC+)
All 3 Parts Premiere Tuesday, October 12
Lindy Chamberlain made headlines in 1980 when she claimed a dingo had killed her 9-week-old baby in the Australian outback. With little evidence, Lindy was convicted of murder, and spent the next 30 years trying to prove her innocence. With exclusive personal accounts in this revelatory three-part true crime documentary series from award-winning director Mark Joffe, Lindy and her family finally share their own story. *Sundance Now Exclusive Series
Cheyenne & Lola (SUNDANCE NOW / AMC+)
All 8 Episodes Premiere Thursday, September 16
Cheyenne, 35, recently released from prison, is a tattoo artist who cleans the ferries between France and the UK to save money for a future life. Lola, 25, is a beautiful Parisian woman, selfish and ruthless, who has just arrived in the North of France to move in with her lover. The past catches up with Cheyenne when she witnesses Lola killing her lover's wife. Cheyenne assumes she's going to be accused of the crime and Cheyenne & Lola ripen into a ruthless duo… (French Language Drama) *Sundance Now Exclusive Series
 One Lane Bridge (SUNDANCE NOW / AMC+)
Season 2 (exclusively in the U.S. and Canada) Premieres Thursday, October 7
This season, when Detective Ariki Davis (Dominic Ona-Ariki) is trying to harness his Māori gift of matakite to save his boss Stephen Tremaine (Joel Tobeck) from attempting suicide on the infamous One Lane Bridge, he inadvertently triggers a cataclysmic chain of events – unleashing rivalries and uncovering long buried secrets. Burdened by his second sight, Ariki's loyalties are tested as he navigates a murder investigation rife with ulterior motives and conflicts of interest, including his own.